Biosilk Maracuja Oil – hydrating hair treatment with maracuja oil.
---
What can 15 ml of passion fruit oil do? It may seem that not much but appearances can be deceptive. Tiny maracuja oil – Biosilk Hydrating Therapy – is an excellent moisturising and nourishing hair treatment. After the great success of liquid Biosilk, you can expect a lot from the product.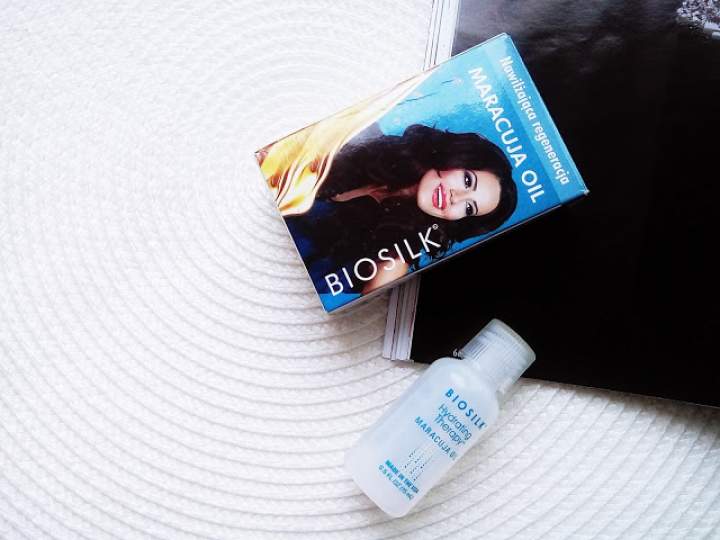 Action, application and ingredients are the most crucial. We should focus on these three things so that we can summarize the product.
What should you know about Biosilk Hydrating Therapy Maracuja Oil?
Formula. Sadly, Biosilk Maracuja Oil is not a pure oil extracted from maracuja fruits. On the one hand, it is a negative as natural oils are effective without any additives. On the other hand, the action of Biosilk Hydrating Therapy may prove to be better thanks to extra substances.
The main ingredient of Biosilk maracuja oil hydrating treatment is maracuja oil. Natural maracuja fruit oil contains unsaturated fatty acids and diversity of vitamins. Biosilk Hydrating Therapy also contains quinoa extract and silk proteins.
Unfortunately, apart from some valuable ingredients, there also those which we would rather get rid of. Biosilk has decided to add several silicones, fragrance substances and preservatives. Sunscreen is an unquestioned advantage.
Action. The moisturising treatment has been designed to control the level of hydration in hair, regenerate and strengthen the strands. Biosilk Hydrating Therapy Maracuja Oil has been tested by many women; it makes detangling easier, prevents tangles and frizz. It can add shine, suppleness and vitality. Smooth and much more beautiful hair is nice to style thanks to Biosilk Maracuja Oil.
Directions. The oil comes in 15 ml bottle thus it has no handy atomiser or pump. However, you need only one drop of Biosilk Maracuja Oil to cover your hair with a silk formula. Intensive and very nice fragrance stays on hair. How to apply it? Take a tiny amount of the oil, rub it in your hands or apply directly to hair.