Volume at your behest with Nanoil for low porosity hair!
---
Your aim is hair full of volume, easy to style and curl. The hair that looks beautiful every day, no matter if exposed to the damaging action of the scorching sun or not. The great news is that even hair that is straight and hard to style can become manageable. Meet the expert in the field of low porosity hair care – Nanoil hair oil.
The thing that makes Nanoil hair oils stand out is their composition that matches human hair's structure.
The brand took care of choosing the ingredients of the highest quality to compose them mindfully afterward, having in mind the following principle: the lower hair porosity, the lighter oils of smaller molecules.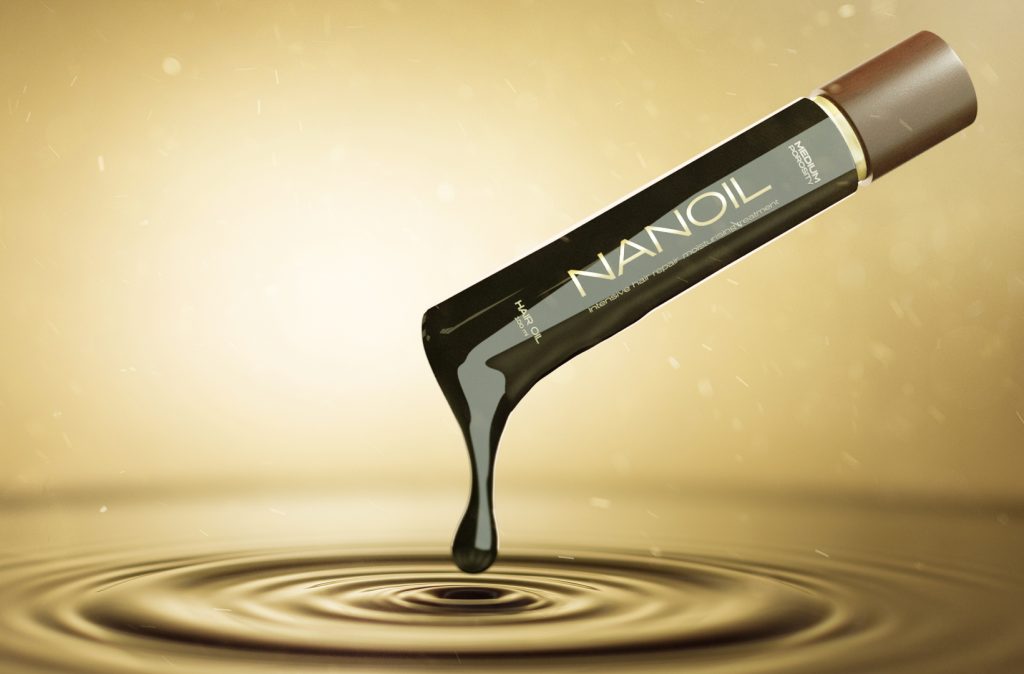 What does it mean for us, women? As long as we know our hair porosity (the level of damage), we can gain a lot. Oil hair treatment that conforms to the particular rules makes the beauty procedure maximally effective, despite it being natural. For some reason, it's believed that natural care works less effective. This is not true! The lack of outcomes is due to inappropriate action that is carried out. Nanoil hair oil belongs to the group of perfectly worked-out treatments.
Nanoil for low porosity hair was designed for women with straight, heavy and problematic hair. Its formula is far from being greasy and dense, which is contrary to the common vegetable oil associations. The beauty product bases its action on 9 natural butters and cosmetic oils, yet it doesn't weight hair down nor contributes to roots getting greasy. Nanoil is absorbed promptly, leaving hair coated with a pleasant and delicate aroma.
The composition of Nanoil hair oil fill:
Cupuaçu Butter – adds elasticity
Shea Butter – improves moisture
Argan Oil – provides heat protection
Babassu Oil – makes styling easier
Pine Oil – takes care of the scalp condition
Coconut Oil – creates a protective layer
Passion Fruit Oil – counteracts ageing
Monoi Oil – reinforces the lipid barrier
Castor Oil – stimulates hair growth
Obviously, this isn't everything that comprises Nanoil for low porosity hair composition. Certainly, the most important are the oils enumerated above. However, Nanoil is something more than just the blend of the natural oils. These substances don't only complement each other but also their action is enriched with a set of additional ingredients, among which are: provitamin B5, Retinol (vitamin A), UV filter, and tocopherol (vitamin E). Moreover, Nanoil contains two innovative substances counteracting hair loss (Kerastim) and accelerating hair growth (Baicapil).
What is in particular given to low porosity hair thanks to Nanoil? How to learn whether this very version of the oil is designed for our hair? What can be taken for granted due to regular Nanoil use?
Your hair is low porosity, so:
it's resistant to curl
Tightly closed cuticles of the outer hair surface make that neither high temperature nor styling products are able to change the texture of your hair. Nanoil for low porosity hair facilitates absorption of other styling substances, as it influences hair flexibility. The product makes hair more manageable and fixes the effects obtained.
it's without volume
It's hard to require from straight and heavy hair to be full of volume. Nanoil for low porosity hair, as the only one, doesn't weight hair down. Instead, it conditions the scalp. Namely, it strengthens hair bulbs, adds elasticity and lightness to strands which directly unleashes hair volume. Strands spring from the roots and stop lying flat on the scalp any longer.
it's hard to blow-dry
Low porosity hair is bad at absorbing water, which makes it hard to dry. Nanoil for low porosity hair facilitates getting rid of water that stays on hair after washing. The small molecules of Nanoil get inside the hair, pushing out the excess of water to make room for the nourishing substances. As a consequence, hair dries faster; this also relates to leaving hair be air-dried.
it's overburdened with cosmetics
The greatest difficulty in taking care of low porosity hair is connected with the problem of finding the right cosmetics. Most products weight hair down which is already deprived of volume. Only Nanoil for low porosity hair doesn't remain on hair's surface. Instead, it penetrates hair layers and works from the inside by nourishing, moistening and delivering reinforcement.
it's damaged by the sun
Low porosity hair is typical for the warmest, equatorial climate regions. The weather conditions of these terrains are definitely adverse because the hot sun and drastically high temperatures lead hair to lose water and turn into being dull. Nanoil for low porosity hair provides complex protection, regulates the level of moisture and shields against the solar radiation.