Best hair oil: Nanoil Argan Oil. Beauty is in its nature.
---
Weak hair needs intensive repair and nature surely equals great power. If you try to compete with it, you're doomed to failure. The best you can do is imitate nature to create perfect remedies and improve the quality of life, health and good looks. There are lots of natural substances that can't be replaced. Argan oil belongs to the world elite of anti-ageing products. It beautifies each body part and acts as spectacular hair treatment. If you're fighting to fix your weak, limp hair which starts falling out, loses shine, gets frizzy or is strikingly losing its condition – repair it with Nanoil Argan Oil.
Nanoil Argan Oil: the best ingredients
This oil surprises with top quality. It is 100% pure argan oil certified by Ecocert, extracted from the nuts of untouched Argania spinosa trees grown in eco-friendly regions of Morocco. Nanoil Argan Oil is unrefined and cold pressed so it preserves all active compounds making it a top choice of girls all around the world. Nanoil Argan Oil houses over 100 active substances which upgrade the quality of skin and hair. The key ones include natural EFAs, that is essential unsaturated fatty acids. Thanks to ideal proportions that they occur in, argan oil stands out among others and thus suits every skin and hair type. What's important, the oil is higher in vitamin E than olive oil as well as contains squalene, phytosterols and flavonoids that are essential for skin, smoothing wrinkles and fighting free radicals. Argan oil is a strongly rejuvenating elixir which repairs the weakest hair.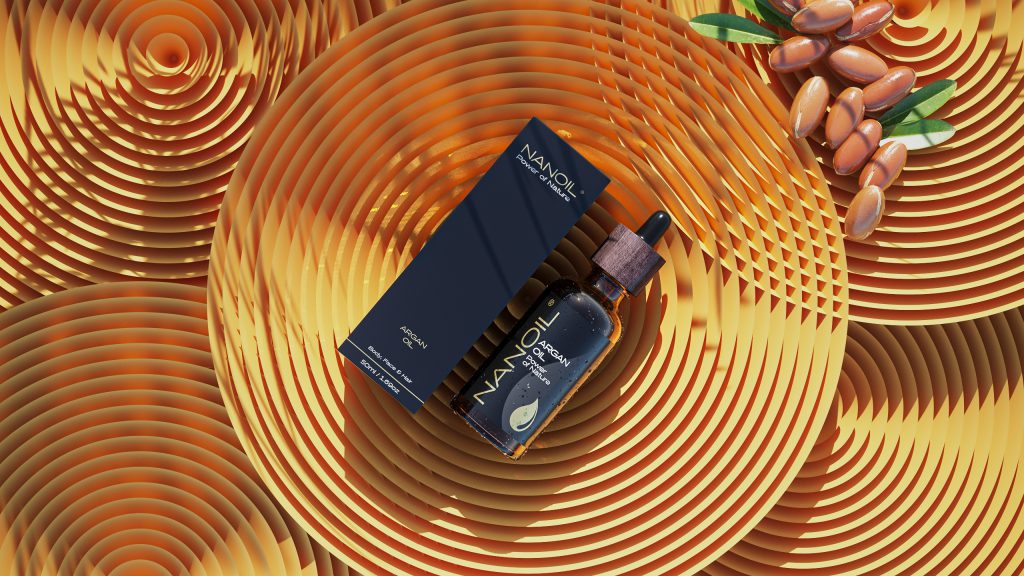 Nanoil Argan Oil: the best effect
How argan oil works on hair? It answers all kinds of problems, improving the looks of hair (like most conditioners), as well as penetrating deeply to fix micro-damage and fill in gaps in the keratin structure, and strengthening disulfide bonds. Nanoil Argan Oil reaches hair follicles: strengthens them, makes process in hair matrix run smoothly, stimulates hair growth and keeps strands from falling out.
Fifteen minutes is all it takes to give shine, strengthen, add bounce and make hair more manageable. Argan oil protects hair against bad effect of UV radiation, toxins, pollution and low temperatures. It leaves a microscopic laminate-like layer on the surface which acts as anti-damage shield and amazing shine booster upgrading the looks of the most over-processed hair.
Nanoil Argan Oil: how to use on hair?
Use the oil regularly, at least once a week. Do full oil treatment, that is apply the oil both to hair and scalp, gentle massaging it in. This way follicles are activated whereas hair loss is blocked.
Argan oil can be applied to either damp or dry hair. After rinsing it with shampoo, you immediately feel better hair condition: silky smooth strands feeling softer. After a few weeks of systematic oil treatment with argan oil, you get a total hair repair and makeover.

Nanoil Argan Oil: the best reviews, ratings, results
Nanoil gest the highest opinions when you look through online reviews. It's also a winner in many prestigious rankings; both cosmetologists and hairstylists give it the name of excellent hair treatment as well as natural face, body and nail serum. Argan oil is all purpose, goes with all skin types and nearly every hair type. It lets you get rid of cellulite and stretch marks, repairs the most damaged nails after gel mani. Finest quality, perfect price, stunning effect – all this makes Nanoil Argan Oil get rave reviews and enthusiastic opinions.