Gliss Kur Hair Repair Elixir with valuable oils.
---
The variety of hair oils in a product does not necessarily mean that the cosmetic is good. We should also take a look at other ingredients, application and action. What is the big picture of Schwarzkopf Gliss Kur Hair Repair Daily Oil-Elixir?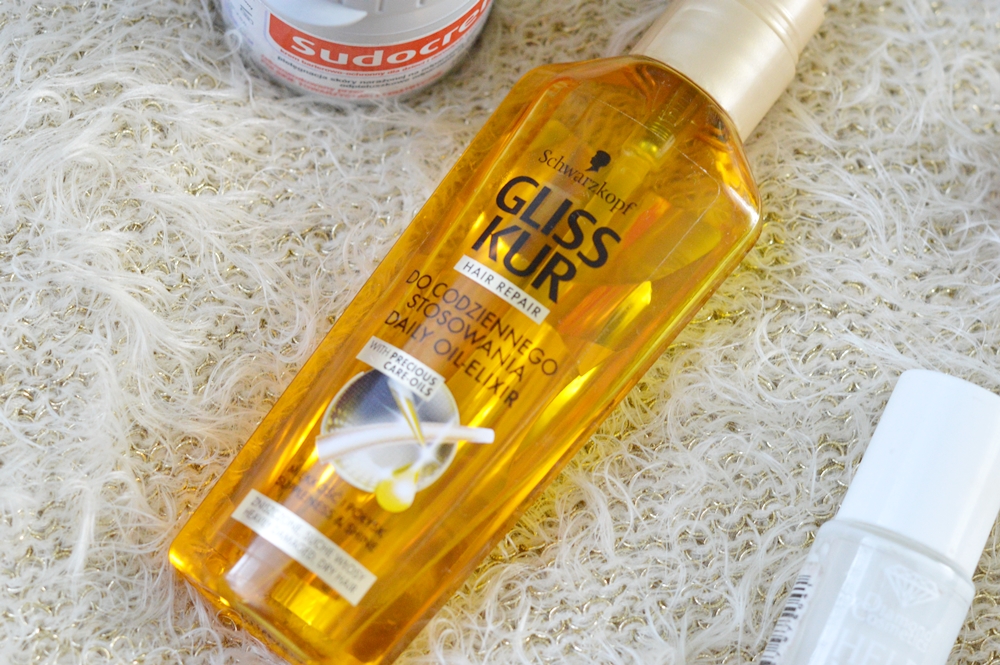 Every-day hair care requires proper tools. Schwarzkopf Gliss Kur Hair Repair Daily Oil-Elixir is one of them. It has been designed to solve the problems of weak high porosity hair. What is the best description of the product?
Gliss Kur Hair Repair = elixir for hair which is in need of intensive nourishment
The purpose of Gliss Kur hair oil is simple. It has been created to help dry, damaged and needy hair.
It will be very effective for hair which is damaged due to styling treatments, regular colouring, straightening, curling…
Ingredients
Let's begin with a short analysis of the ingredients. Gliss Kur Hair Repair Daily Oil-Elixir contains only one silicone which may potentially clog the pores. It is not bad if we consider that the product has more than ten active ingredients. Which components are responsible for the properties of the oil?
Elixir Gliss Kur Hair Repair is the combination of two most popular hair oils. One of them is argan oil which provides repair action. It is the source of endless precious fatty acids and nutrients, therefore it excellently moisturises, strengthens and gives hair amazing shine. Another valuable component is sunflower seed oil which provides hair with vitamin E, beta-carotene, sunscreen and omega-6 acids. As a consequence, sunflower oil in Gliss Kur Hair Repair protects the hair and prevents it from ageing (example of symptoms may be excessive hair loss).
Description
Schwarzkopf Gliss Kur Hair Repair is an ever-day nourishing and strengthening treatment. The cosmetic is supposed to give hair suppleness without the effect of weighed down hair. Gliss Kur Hair Repair Daily Oil-Elixir penetrates inside the hair; it deeply nourishes, repairs and makes hair resistant to harmful external factors. Then, it improves its look.
Gliss Kur Hair Repair is a hair oil that comes in 75 ml bottle. Similarly to other Schwarzkopf products, it has a pleasant and quite intense fragrance. The formula of the elixir is quite dense. It has a practical pump, which enhances the efficiency of the oil.