Take care of your hair with Nanoil Keratin Hair Mask
---
Discover the best keratin-dense hair mask by Nanoil!
Every single day our hair must fight back a huge number of attacks of various environmental stressors that are the main cause of mechanical damage. Sadly, regular hair conditioners are not often able to provide adequate protection so the strands are getting weaker and weaker day by day. Do you want to stop this vicious circle once and for all? Are you dreaming of beautiful and glossy hair? You must start with repairing the innermost layers of the hair shaft!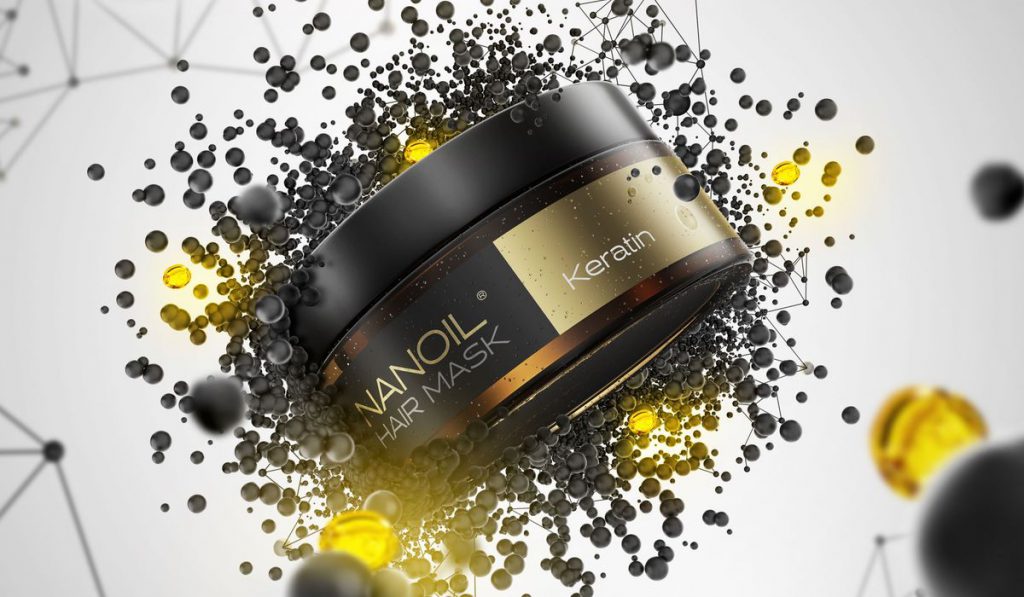 Why Nanoil Keratin Hair Mask?
This lightweight consistency will not weigh your hair down, you can be sure of that! Instead, it will shield the strands from damage that leads to brittleness. Moreover, this mask targets cracks and gaps that appeared on all hair layers to repair and fill them up. The main hair fixer is hydrolyzed keratin that is known for its extraordinary abilities to penetrate all hair layers fast to patch the gaps (damage) up. No doubt, there is no better solution to repair damaged hair than hydrolyzed keratin!
Nanoil keratin hair mask – ingredients
Nanoil Keratin Hair Mask is composed of the best and high quality ingredients. The most important ones are the above-mentioned hydrolyzed keratin and panthenol, that most people know under another name – provitamin B5. Both substances – which by the way naturally occur in the human body – make the most essential building blocks of hair. When keratin and panthenol levels are low, the hair immediately becomes damaged and brittle, it is no longer shiny or resilient either.
Waking up with such miserable hair may get you depressed. Indulge yourself in a little bit of luxury with Nanoil Keratin Hair Mask!
How to use Nanoil Keratin Hair Mask?
Application of keratin hair mask by Nanoil is one of the simplest tasks you can possibly imagine. Spread the cosmetic all over your damp hair and rinse after 20 minutes. Repeat this procedure every week. That's all! You can enjoy fabulous and shiny hair that leaves others astonished.
Owing to the pleasant consistency, this hair mask is incredibly easy to be spread on the strands. The high quality ingredients ensure total hair reinforcement from the roots to the ends!
Comments on Nanoil Keratin Hair Mask
The users simply adore Nanoil Keratin Hair Mask. The reviews are raving. This cosmetic is recognized as a miracle worker! Why so? Because Nanoil Keratin Hair Mask is able to repair even the over-processed hair. And you don't have to wait long to give a new lease of life to the damaged hair.
Keratin hair mask by Nanoil nourishes hair so it becomes lustrous in a snap. The well-selected ingredients used in the right proportions ensure fast absorption of this amazing hair care product.
The effects of Nanoil keratin hair treatment can be seen the moment you rinse this hair mask for the first time. Still, when Nanoil Keratin Hair Mask is used regularly, hair is given long-term protection.
The results created by Nanoil Keratin Hair Mask surprise even the most demanding users. This hair repair treatment really works wonders! This product does improve the looks of the hair, even the most damaged and fatigued strands. The hair doesn't split any longer, which is owed to the adequate protection that this cosmetic ensures.
Take care of your hair and choose Nanoil Keratin Hair Mask – the hair mask that enjoys immense popularity among all the healthy hair enthusiasts. Go on nanoil.us to learn more about this out-of-this-word hair care product.