Dove Nourishing Oil Care – bi-phase method for beautiful hair
---
The Dove brand spent decades of work on the hair and body care products. Ergo, it shouldn't come as a surprise that leave-in spray conditioner Dove Nourishing Oil Care is recommended by many women. It is truly advanced and well thought out formula for normal and damaged hair. What can we say about this product?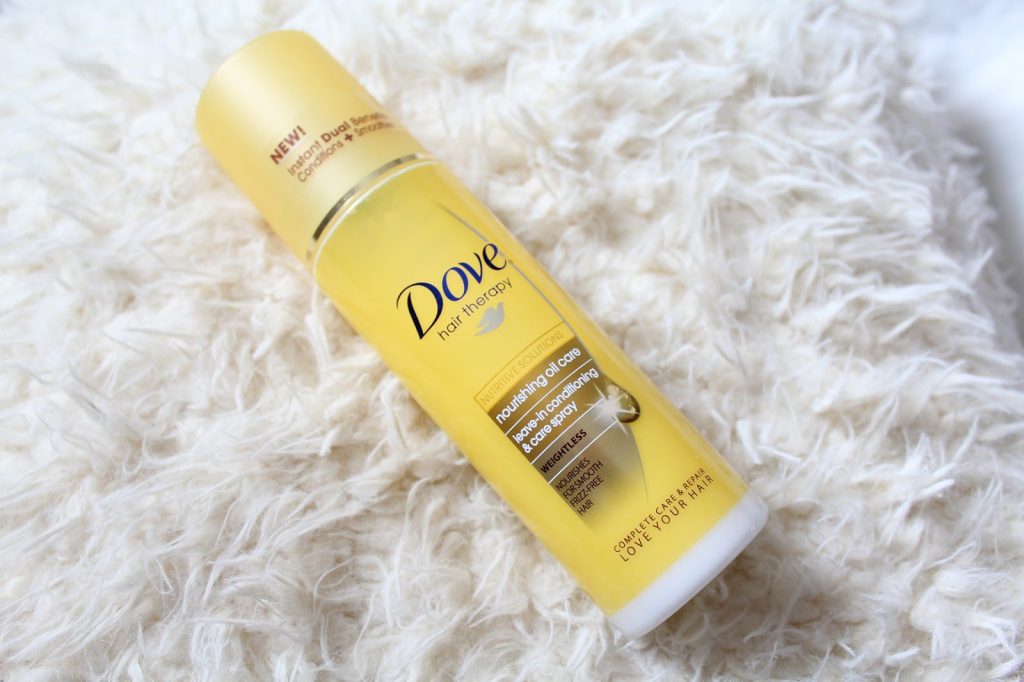 On the Internet Dove Nutritive Solutions Nourishing Oil Care has gain the title of the product of all times.
Plenty women recommend its use for damaged, dry, weak and requiring regeneration hair.
Hair conditioner in spray from Dove is based on oils and its properties are based on bi-phased formula. First layer contains Fiber Actives complex, and the second one patented Micro Moisture Serum ingredient. What is action of these layers based on? What properties does the bi-phased Nourishing Oil Care provides?
Fiber Actives – penetrates inner hair structures and restores damages from the inside out.
Micro Moisture Serum – smoothers external damages and ensures hair with general smoother.
We should dedicate longer moment to look closely at first phase of the product, where base are essential vegetable oils. Fiber Actives is a combination of sweet almond oil, coconut oil and argan oil, which are responsible for inner and complex improvement of hair condition. This is why leave-in spray conditioner in Dove Nutritive Solutions line is simple oil conditioning.
How does Dove Nourishing Oil Care work?
Properties of hair oil from Dove are a merit of complex vegetable ingredients, that deeply improve hair condition. Main task of this cosmetic is most of all nourishment and hair regeneration. Bi-phased formula provides more possibilities, because oil phase works on the inside of hair (restores damages, strengthens, ensures elasticity) while Micro Moisture Serum improves external appearance (smoothers, disciplines, provides gloss and makes stylisation easier).
Light formula and easy method of application of Dove Nourishing Oil Care makes this cosmetic being recommended for every hair type. It is applied in form of delicate mist with atomiser, which makes application even easier and increases efficiency of the product. Before application on hair, you need to shake the bottle for the formulas to combine. Spray conditioner Dove does not weight hair, so it works both on fine and frizzing hair.